Research
Transition metal clusters and magnetochemistry
Open-shell transition metal systems, where the presence of one or more unpaired electron presents a considerable challenge to theory, are a major theme within the group. Many of the highlights in this area involve transition metal ions and clusters, where the presence of multiple metal centres further complicates matters. Through a careful consideration of the electronic states that arise from the coupling of these unpaired electrons, we have unravelled the complex and previously unexplained structural phenomena in a number of cluster systems. In collaboration with Prof. Raphael Raptis (University of Puerto Rico), we investigate the nature of the mixed valency (localised or delocalised) in reduced ferric/ferrous clusters.
The role of Synthesis, Characterization, and Study of Octanuclear Iron-Oxo Clusters Containing a Redox-Active Fe4O4-Cubane Core, P. Baran, R. Boca, I. Chakraborty, J. Giapintzakis, R. Herchel, Q. Huang, J. E. McGrady, R. G. Raptis, Y. Sanakis, A. Simopoulos, Inorg. Chem., 2008, 47, 645.
---
Redox-active ligands
We also have a strong interest in exploring the ways in which electrons are transferred between transition metals (and metal clusters) and redox-active coordinated ligands. Recent highlights include the exploration of detailed electronic structure and electron transfer reactions of Mn-, Fe- and Cu-based biomimetic clusters in collaboration with Prof. Christine McKenzie (University of Southern) and Prof. Paul Walton (University of York). Our studies have illustrated that the open-shell character plays a defining role in controlling the direction of electron transfer processes.
Catalytic alcohol oxidation by an unsymmetrical triaminocyclohexane copper complex: electronic structure and mechanism, Ekaterina Zueva, P. H. Walton, J. E. McGrady, Dalton Trans., 2006, 159.
---
Mechanistic Organometallic Chemistry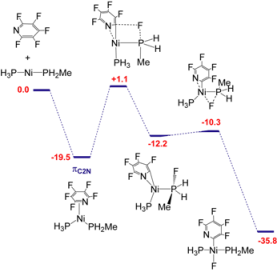 We have a long-standing interest in the mechanisms of organometallic reactions. A recent highlight has been the discovery of an unexpected role for phosphine ligands in C-F activation chemistry by zerovalent nickel and platinum complexes. Classic oxidative addition chemistry dominates the thinking of most chemists involved in bond activation, but in the presence of phosphine ligands, C-F bonds can be activated by transferring the fluoride not to the metal, but rather to the phosphine, forming a metallophosphorane. In collaboration with Prof. Robin Perutz (University of York) and Prof. Stuart Macgregor (Heriot-Watt university) we have rationalised a variety of previously puzzling experimental observations regarding C-F activation at pentafluoropyridine using this framework. Perhaps most remarkable is that in the nickel systems the phosphine-assisted pathway allows the pyridyl nitrogen to act as a neighbouring group, stabilising the unsaturated metal centre. This neighbouring group effect only operates if the bond ortho to the pyridyl nitrogen is activated, thus causing a switch in regioselectivity relative to the platinum analogues, where para selectivity is observed.
A comparison of C-F and C-H bond activation by zerovalent Ni and Pt: A density functional study, Meike Reinhold, John E. McGrady, Robin N. Perutz, J. Am. Chem. Soc., 2004, 126, 5268.
---
Electron transport properties of molecules
Another main interest of the group is to understand the link between electronic structure and electron transport properties of extended metal atom chain (EMAC) complexes, where hlical array of oligo-α-pyridyl ligands is used to support a chain of metal centres. These systems have been the subject of a protracted debate in the inorganic chemistry community due to their polymorphism. They exist in symmetric and unsymmetic forms. Our current objective is to relate the fundamental electronic structure of these EMAC complexes to their conductance as measured, for example, by STM. Ultimately, an understanding of these phenomena will be essential to the development of new computer architectures based on molecular-scale components.
Efficient Spin Filtering through Cobalt-Based Extended Metal Atom Chains, Vihar P. Georgiev, J. E. McGrady, Inorg. Chem. , 2010, 49(12), 5591- 5597.
---
Weak interactions in organometallic chemistry
The nature of agostic interactions is also an area of considerable interest in the group. In collaboration with Prof. Michel Etienne (LCC, Toulouse) and Prof. Feliu Maseras (ICIQ, Tarragona), we have shown that the interplay between steric and electronic factors in TpMe,MeNbCl(R)(alkyne) (where R = alkyl) leads to an unprecedented diversity of α- and β-C-H agostic interactions. Most recently, we have discussed the remarkable structure of the cyclopropyl derivative, which shows evidence for a very unusual α-C-C agostic bond.
Critical role of the correlation functional in DFT descriptions of an agostic niobium complex, D. A. Pantazis, J. E. McGrady, F. Maseras, M. Etienne, Chem. Theory and Comput., 2007, 3, 1329.
On the origin of α- and β-agostic distortions in early-transition-metal alkyl complexes, D. A. Pantazis, J. E. McGrady, M. Besora, F. Maseras, M. Etienne, Organometallics, 2008, 27, 1128.
Agostic interactions in alkyl derivatives of sterically hindered tris(pyrazolyl)borate complexes of niobium, J. E. McGrady, F. Maseras, M. Etienne, Coord. Chem. Rev., 2009, 235, 635.
---
Main group chemistry
Not all the work in the group is related to transition metal chemistry. In collaboration with Dr. Chris Russell and Prof. Michael Green (Bristol) and Dr. Jason Lynam (York), we have explored the mechanisms of nucleophilic substitution at phosphorus clusters. In principle these reactions are direct analogues of the well-known SN2 process in carbon chemistry, but the P-P bonded framework provides a sink for electron density, leading to an unexpectedly complex potential energy landscape.
A New Reaction Pathway in Organophosphorus Chemistry: Competing SN2 and AE Pathways for Nucleophilic Attack at a Phosphorus-Carbon Cage Compound, C. Fish, M. Green, R. J. Kilby, J. M. Lynam, J. E. McGrady, D. A. Pantazis, C. A. Russell, A. C. Whitwood, C. E. Willans, Angew. Chem. Int. Ed., 2008, 27, 1128.
---
Inorganic Chemistry Laboratory, South Parks Road, University of Oxford, OX1 3QR, United Kingdom.